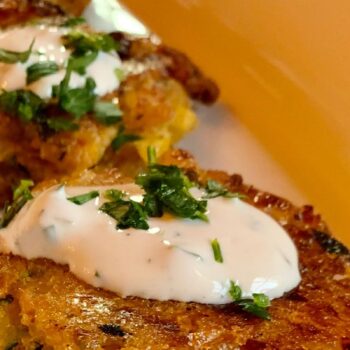 ZUCCHINI CORN FRITTERS WITH JALAPENO CASHEW CREAM
smoked paprika | sunflower sprouts | pistachio crumble
OLA Savor drizzle
Print
Pin
Ingredients
 Corn Fritters 
2

cups

 fresh (or frozen) corn kernels

(removed from cob )

1 1/2

cups

 shredded zucchini 

1/2

 red bell pepper 

( minced fine )

1

 finely minced shallot 

1/2

cup

 all-purpose flour 

1/2

cup

 fine corn meal 

1

tbsp

 nutritional yeast 

sea salt

1

tsp

 smoked paprika 

1/2

tbsp

 nutmeg 

1/4

tsp

 ground pepper 

1/4 

cup

 cashew milk 

 vegetable oil (for frying) 
 For the Jalapeno Cream
1

tbsp

 extra virgin olive oil 

1

cup

 tofu sour cream 

3

tbsp

 lemon juice 

3

tbsp

 picked jalapeno slices (15 slices) 

( minced fine )

2

cloves garlic

(crushed)

1

tbsp

 nutritional yeast 

2

tsp

 onion powder 

sea salt

 ground black pepper 

1

bottle

 OLA Savor 
Instructions
 For the Corn Fritters 
Place shredded zucchini in a strainer and coat with 1/4 tsp of sea salt. 

Let it sit for 10 minutes and then squeeze the excess water out of the zucchini shreds with your hands. 

Place zucchini in a large mixing bowl with corn, bell pepper, shallot, all-purpose flour, corn meal, nutritional yeast, and 1/4 teaspoon of sea salt, ground pepper, paprika and nutmeg. Stir to combine well. Stir in non-dairy milk and combine into a thick batter. 

Heat a non-stick pan to medium hear with 3 tbsp of vegetable oil. 

Use a small scoop of batter for each fritter and shape into a patty with our hands. 

Place 2-3 fritters in the pan at a time and fry 1 1/2 - 2 minutes per side, until golden brown on the outside.

Add another 2 tbsp of oil to the pan once you've fried about 9 fritters, or the oil has evaporated. 

Fritters can be kept warm in a 300 degree oven. 
 Make Jalapeno Cream 
In a small bowl, whisk together olive oil, sour cream & lemon juice. Beat until thickened and creamy in texture. 

Refrigerate for at least 1 hour before serving. 
 To Serve 
Top each fritter with a dollop of jalapeno cream. Drizzle with OLA Savor.